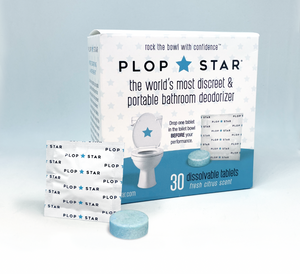 DUE TO HEAVY SHARK TANK DEMAND, WE'RE OUT OF STOCK! 
New .
ORIGINAL CITRUS SCENT
Things just got handier with our new easy-to-open 30 pack. Plop Star's seals in odor with a buffer of essential oils. Leaves a refreshing citrus scent behind so you can rock the bowl with confidence. Great for home, office restrooms, and anywhere you'd like someone to use one. 


Contains 30 individually wrapped dissolvable Plop Star tablets.