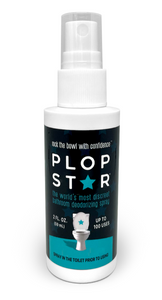 PLOP STAR'S CITRUS SCENT SPRAY
The world's most discreet bathroom deodorizing spray. Spray in the bowl BEFORE your performance. Plop Star blocks bathroom odors before they start. Leaves a subtle citrus scent behind, and nothing else. So, you can rock the bowl with confidence.  

Contains 2 oz. of Plop Star Spray. Up to 100 uses in each bottle.